Idina Menzel
August 12, 2008 :: 7.30 PM
University of Denver: Newman Center
We (Anat and I) got there really early, because traffic down to Denver ended up being way better than expected. So we hung out in the lobby for quite a while, where we overheard some funny (and quite a few inaccurate) Idina comments. We went into the actual theatre half an hour before the show and realized our seats were amazing!! Row G, seats 1 &2. There were a few empty seats a few rows up, so the two of us went to sit in those. A few minutes later, a man walked up to us telling us that we had to move back because these seats were reserved for relatives. A few minutes after that, Idina's sister, Cara, with her two sons, Avery and Jacob, and what I think were her parents sat down in those seats. Cara is beautiful (and looks so much like Idina when she smiles!) and her boys were wearing white shirts and clip on ties and looked completely adorable!!
When the lights went down (the first time), this young guy started singing and playing the guitar and somehow all of his songs sounded the same, which made Idina sound that much better afterwards. After his performance the lights went back up and we sat around for another 45 minutes before Idina showed up. She was more than an hour late. We were confused because no one told us why and the ushers were pissed that they also didn't know where she was. I still have no idea why she was late, she didn't say anything during the concert.
Then finally, the band walked onto the stage and the announcer guy came on to introduce her, and she finally walked onto the stage!! Seriously one of the coolest experiences of my life!!! At that exact point, it finally sank in that she was actually in Denver and there. She was wearing really skinny jeans which worked really well on her and the purple-ish loose blouse and looked completely amazing.
By song, because that's how I do all my reviews…
I Stand: This is possibly my favorite song and I love that she opens with it! She sounded absolutely amazing. I think this song was the one song where she basically stood still, all of the other ones, she started dancing and rocking out to at some point :)
Don't Let Me Down: She moved right into this song. Maybe it just seemed this way to me, but there was a lot more emotion in the end of this song. I don't know if something happened during the hour that she was late, but she definitely seemed a little tense and not quite comfortable during the first few songs.
Where Do I Begin: "I wrote this song for my husband… when I pissed him off." I love that she still explains this at every single tour concert before she starts. Somehow that keeps her more grounded as a songwriter, since she tells us that it's actually from an experience in her life.
Better to Have Loved: This was seriously one of the best performances I have heard of this song. I don't know if it was just hearing it live, but it had so much power behind it and she hit all the notes perfectly and it sounded absolutely amazing!!
Here: At the beginning, Idina started stretching and then told us, that since we were missing the Olympics for her, she would give us some stretching. Then she was trying to teach us to get the "uh"s right. We tried, but weren't making them sexual enough so she kept correcting us, which was very hilarious! I'm glad that she included a song from her older music, especially this one!!!
Then she talked for a while about her family and having been to Colorado a few times. And that she's only ever been out to sushi and a hike once, otherwise she just hangs out with them. Then she apologized that they don't ski, because her family is originally from Long Island, so it can be forgiven :)
One of my favorite quotes from that night: "My mom worries that I'm going to get dehydrated during the show, so she told me to drink this bottle of water. She doesn't know how hard it is to sing when you have to pee though."
Brave: Idina talked about how this song was inspired by "moments" in her life where she needed something to get out of bed. When I first heard this song (way back when), I didn't have a strong opinion either way about this song, but it's grown on me, just because it means so much to Idina now because of the stories that fans have shared with her.
My Own Worst Enemy: This was another one of my favorite songs! Especially in the middle section, after Idina's belt, when it's just her voice and the keyboard. So beautiful!
Haftarah: "I've always regretted not being able to sing my Haftara, so… here you go Denver."
Rise Up: This song has even more meaning after hearing the Devorah part, the story about her sister, and having her sister sit in the audience. It's such a beautiful song. And every single lyric seems to connect exactly to her sister.
Happy Birthday Cara!: After the song, she told us that it was Cara's birthday today and that she and the boys had something special for her. She brought all three of them up. When Cara came up, Idina said "She never sings with me! Oh she's crying, oh shit… I know I'm embarrassing you." Avery came out carrying a cupcake cake and then Idina and Jacob sang "Happy Birthday". There were a lot of hugs, "awww"s from the audience, and Idina's nephews just being adorable!! Idina commenting on the stack of cupcakes when Avery pulled one out: "Don't let it fall down, it's like Jenga."
Wedding Singer Days: "She feels so bad for ruining this holiday for the rest of my life… I hate Thanksgiving." This entire section is so much greater when you have the visual of the wedding singer dress from way back when! She just stuck her arms through the sleeves so you could see it from the front, which was funny when she turned around and still had the blouse and jeans. Seeing Idina dance the "uniform choreography" was also crazy :)
No Day But Today: I love that she does this song with just an acoustic guitar!! It turns out people in Colorado do know a bit about musical theatre, since there was crazy cheering when Rent was mentioned. There was a lot of emotion in this song because it was Idina singing Rent right in front of me, which slightly blew me away.
Perfume & Promises: This is Anat's favorite song :) She sang it beautifully. Although this time, she didn't mention that she'd written it in London with a little Scottish man.
Heartbreaker: She started this song with "I'm gonna try something brand new tonight." and then explained that she had her lyric sheet lying in front because she always messed up the first and second verse. She completely rocked the song!!! She told the band to play the intro one more time, because she needed to feel the song :) It was an amazing cover and you could not tell that it was her first time singing it on tour. Afterwards, she complained that it was higher than she thought, although her high notes weren't as high as Belle's. I love that she sang this song! She kicked off her shoes during this part, and was suddenly a lot more relaxed and comfortable looking on stage!
After this song (Idina was stalling so she could get her breath back, she kept on complaining about the elevation :P ) she asked "Hi Avery, Hi Jacob! How's Aunt DeeDee doing?" – "She's doing all right" – "Okay. Keepin' it real". Someone told her to drink some water, and then she started telling the story of having peed on stage before: "Green make up dripping down your face and urine everywhere"
Forever: Again, she sang this one beautifully too :)
For Good: Even if it was only her half of the song, it was absolutely amazing hearing her sing this song! I just remember the entire theatre being completely silent…(except for when a cell phone went off…)
Gorgeous: I love that she ends the concert (minus the encores) with this song!! It's so upbeat and hopeful.
No Trace of Us: While the band was still setting up, she did a quick Q&A about her Tony, Taye being in LA, and her favorite show she's been in (Wicked and Wild Party).This was the first time I heard this song in full, and it's really pretty. It definitely wasn't the most exciting one and for some reason, while listening to it, I just kept thinking of Spring Awakening, because the song sounds like something that could be in there too. Maybe that's just Sheik's writing style…
In between these two songs: "Is Jacob sleeping?" – "Avery is." – "Oh Avery is sleeping? Avery!"
Defying Gravity: "Something has changed within me…. Goodnight everyone, thank you!" and she pretended to walk off stage. Then she talked about how people ask her if she gets tired of singing this song and her response was: "no…it changed my life, and it's really pretty, and people really like it…" She also talked about still singing this song in 30 years in Las Vegas and she won't be able to remember the lyrics: "Something has changed within me, something just ain't the same." Then she couldn't remember the opening lyrics, so she asked us to sing it :) It was an amazing moment and I still can't believe that I actually heard Defying Gravity from Idina herself! It was completely unbelievable.
Afterwards, we caught Idina's tour manager, Debra, as she walked through the lobby and asked if Idina would be signing autographs. She told us that Idina had to rush because she had to catch a plane to LA (for the Ferguson filming) that night, but there was a slight chance that we may catch her. So we went and waited by the tour bus. About an hour later, Idina came out, looking beautiful and being hurried along by Debra (apparently they really had to catch that plane…)
I did get some great pictures of Idina as she hurried through people, and Anat had an actual conversation with her…
Anat: I flew all the way from Israel to see you!
Idina: Really? From Israel? Wow. What's your name?
Anat: Anat.
Idina: What does it mean?
Anat: It's a name of a town in the Torah.
Idina: Oh, that's so cool! Thank you so much for coming.
One of Idina's backup singers, Holly:
Idina after the concert, in front of her tour bus: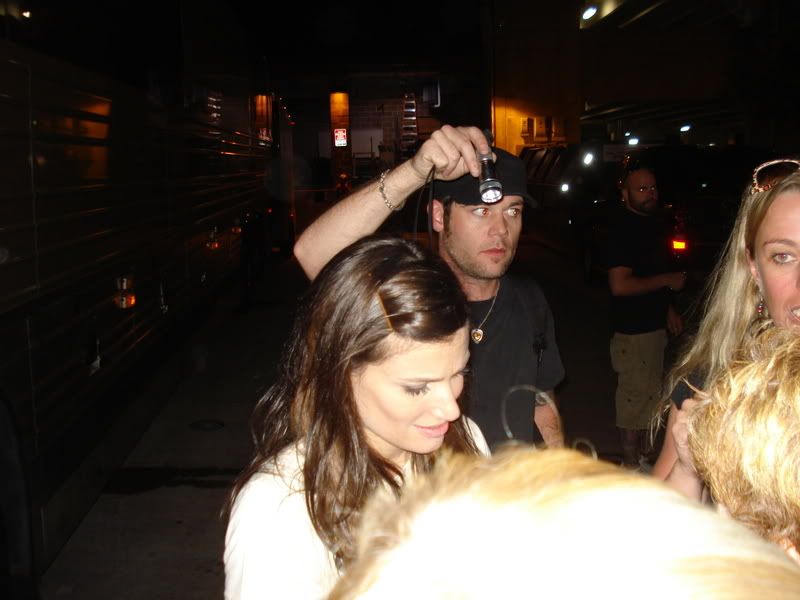 She was gone in the tour bus so fast that all I remember thinking at the time was, "She's a lot shorter than I thought!" and "She's beautiful and pictures don't do her justice."
If you read through all that, awesome!!
If you didn't and are just here for the audio, scroll down :)


Idina Menzel 8-12-08 Denver
**audio taken down**
DO NOT POST ON YOUTUBE.

Comments are love! Especially if you take the audio!